Windows is not the only platform that is being targeted by hackers and malicious programs. Even Macs are now prone to these. While anti-virus programs can protect your computer from infection, most of them do not protect against spyware like keyloggers. However, there are applications that you can use to detect and block Mac keylogger and other malicious programs on your computer.
10. TripWire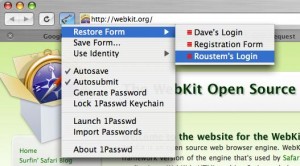 This is an open source application that can be used on Mac, as well as on other operating systems like Windows and Linux. It detects any changes on files as set by the administrator. Furthermore, it notifies you if files have been added or removed from a protected system directory. This way, you would know if there are changes that you did not make, which could be caused by keyloggers or other malicious software. This application is for free so you can protect your computer without spending anything.
9. Little Snitch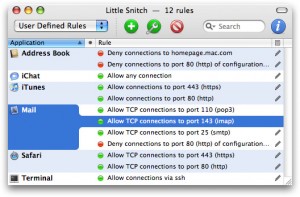 For $29.95, you can protect your computer from keyloggers and other unwanted connections. It lets you monitor the incoming and outgoing connections made on your computer, as well as gives you the option to allow or block them. With this, you will have better control on the communications that happen on your computer, which can prevent unwanted access. You can create various profiles and set the connection that you want to automatically allow or block. For instance, you can set a profile for home and another one for work. There may be connections that you want to block at work that are fine to allow at home. If there is an application that you do not know, which is requesting for access on your computer, its research assistant feature will let you know what it is so you can decide if you will allow it or not.
8. MacScan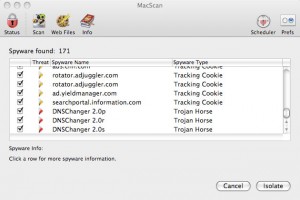 This is one of the most powerful tools that can help eliminate keyloggers and other types of spyware on your computer. Prevent hackers from getting your private information and from remotely accessing your computer by using MacScan. Take advantage of the free trial to protect your computer for a month. After the 30 days trial, you need to purchase the product to continue being protected. This software costs $39.99. It can detect and remove malicious programs that are trying to access your computer. It can also detect over 10,000 tracking cookies and instantly clear Internet cache for faster access on the web. You can run the program on the time that is convenient to you so it does not interfere with your computer use.
7. Internet Cleanup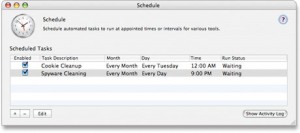 The name of the application may sound like a cleaning utility. However, this is not its only function as it also provides various security features including spyware detection and malware attack prevention. This can protect your computer from keyloggers and other malicious programs trying to access your computer when you go online. Other tools that this program offers are bookmark manager, cookie finder, IM log cleaner, Internet file finder, mail cleaner and secure delete.
6. PC Tools Internet Security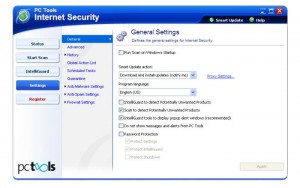 This software will protect your data from malicious programs that are trying to access your computer. It secures your computer from cybercriminals, blocks hard to detect spywares and viruses, removes tracking software, protects against sites that try to steal information and provides a more secured online experience. For $49.99, you can install this program on up to 3 computers and enjoy protection for a year.
5. Intego Mac Internet Security
This software does not just protect your computer from Virus but from malwares like spyware and keyloggers as well. When you connect to the Internet, this program will secure your computer from malicious applications trying to connect to your Mac. It also prevents identify theft. This program detects Mac and Windows spyware so it prevents infected files from being passed on other Windows users. It automatically scans your computer and updates antivirus and antispyware to ensure that you are always protected. This is available for $49.99. A 30-day free trial is also available.
4. ESET CyberSecurity for Mac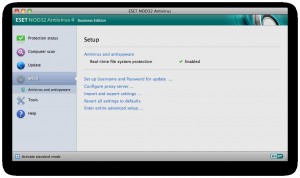 You can get this software for $39.95. This application will shield your information from spyware and other malicious programs so you can be sure that your important data is safe. Furthermore, it also offers protection against virus, Trojan horse and worms that can cause various problems on your computer including slowness, file corruption, freezing and unwanted pop-ups. It offers various scans options including full, quick and custom scan. You can also schedule a scan, as well as pause and resume it. This is convenient especially if you do not want the process to slow down the computer when you need to use it.
3. Trend Micro Titanium Internet Security for Mac
Trend Micro Titanium Internet Security provides a powerful protection to your Mac against hackers and malicious programs that may try to steal your personal information. It can effectively detect and block spyware, malware, virus, worm, phishers and hackers, even those that are hard to find. It offers real time scanning so you can be sure that you are always protected. You also have the option to perform a full scan, a manual scan or a quick can, depending on your preference. If you have kids, this is a good choice as it also offers parental controls. This software is available for $49.95.
2. McAfee Internet Security for Mac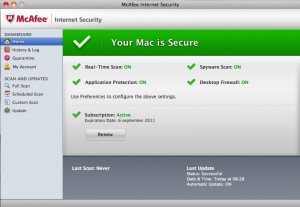 This software will protect your computer online, as well as offline. It detects and blocks spyware, virus and other malicious applications that may try to steal your information. It scans attachments and files sent to you via e-mail and iChat to prevent downloading infected files. It also blocks malicious sites so you can prevent your personal data from being stolen. When an external hardware is connected to your computer, such as a flash drive, the program will perform a scan to prevent any infection from being transferred. It offers real time scanning, as well as scheduled and full scan. You can get it for $79.99.
1. Norton Internet Security for Mac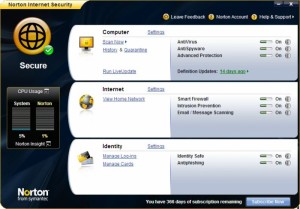 This powerful software will ensure that your information is always protected. It blocks cybercriminals from stealing any important data on your Mac. It also protects from phishing websites, as well as from virus, spyware and attacks from other malicious programs. Control which applications can connect to you and protect your password from hackers. With this program, you can surf the web, do your online banking and shop with ease knowing that you are always protected. This product is available for $69.99.