Even when creating professional audio and video tracks, often people encounter the one big problem that can't be easily solved. This is the problem of budget and it is common as ever because professional software tools don't exactly come cheap. While you can try to use pirated stuff, the chances that you get caught are way too high, so that really isn't a real choice. The best way to actually get some great results is to make sure that you exploit all the free software that you can. At the same time, you can also check out software that won't put much of a dent in your budget. So while you can, check out the different MP4 converters for Mac.
10. iSkysoft Video Converter
AVI video formats are a standard in digital video. A lot of cameras use them which means a lot of amateur film makers have to deal with this complicated video format. The prominent problem with the format is that AVI isn't supported by a lot of video players. This is no problem for Windows users as the default Windows Media Player has a codec that can make it read the video. For Mac users, you can either download a program that can read the file, or use something like the iSkysoft Video Converter. The program is simple enough, pushing out MP4 with relative ease. At the same time, it's also got a free trial, so check it out.
9. Wondershare Video Converter Pro
Yet another great program you can use to make those MP4s, Wondershare features fast conversions for your FLVs. This video format is most commonly used for internet videos, and a lot of YouTube clips still employ FLVs. This program isn't too complicated, as it cannot convert any other types of videos. It basically has two buttons, and on top of that, it can also download from some web video hosting sites.
8. Xilisoft Video Converter
Do you want a little more variation to your video conversion? If your editing plan is to make sure that you have countless different formats to convert into, then Xilisoft is a go to program. It outputs many different video types, can even create videos in H.264, which can be used by the Xbox and the PS3. These are key for those times when you want to watch your favorite movies on your console.
7. 4media FLV to MP4 Converter
While this program only converts into the MP4 video output, it's still worth a look because it can handle several formats. MPEG-4, MOV, and FLVs all fall into the types of files it can take. It also converts at a relatively fast speed while being unobtrusive when it comes to your computer resources.
6. FLV Crunch
Yet another program you can exploit for your video conversion needs, FLV crunch pretty much covers most files that you'd want to convert from the internet. At the same time, it handle heavier forms of videos like WMA, WMV, and other formats not usually associated with Mac and the programs it runs. Overall, the program is pretty popular for good reason. You can check it out for free for a while, and no doubt, the experience might show you a thing or two about how well these types of programs can work.
5. MacX Video Converter
For those that need a program to convert videos for their apple devices, there are several different programs they can turn to. The key differences in these programs are the relative speed of conversion and how many files they can convert into. MacX is a strong one too for this purpose, and it comes with a price of $0. The Trial edition, of course, won't last forever, but it does the job well and it doesn't cost as much as you'd might think.
4. iSquint
The availability of free converters with a sense of professionalism on the mac can be scarce. This is why a lot of them choose common formats instead of heavier weight video formats. However, iSquint was a prospective program, which was cut down in its prime, but still remains today free of charge and easily accessed. The new Mountain Lion OS might not be able to support this program anymore though, as it has no patches or newer version beyond 1.5.2.
3. FLV2iTunes
Don't let the name fool you, as this program covers a lot more ground than just FLV videos. It has numerous support capabilities can convert them all into Mac friendly video formats. At the same time, it also boasts of the ability to shoot the finished products into iTunes, making it easier on you for each conversion and transfer.
2. Smart Converter
Straight forward and clean – these are the trademarks of a great program, which deals in conversions. Smart Converter is one such program and it's definitely going to save you a lot of time when it comes to your conversions. This is because the program is incredibly user friendly, and that's a huge plus in its favor. Beyond that, it basically has the same basic functions as other programs on this list.
1. Compressor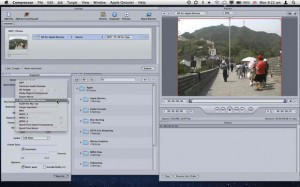 For conversions that need a little more detail to them, look no further than Compressor. This program has one huge strength going for it, and it is because it can be tweaked, which enhances the depth of the program quite a bit. Details can mean a lot for those that need a good video, so there's no doubt that this program will undoubtedly give you everything you need.