Malicious software or Malware can cause various on any computer that acquire them. There are a lot of Malware types that can cause problems like freezing, pop-ups, diverting directions from one site to another and slowness in the performance of the computer and worse, identity theft. Common examples of Malware that can infect your computer are virus, spyware, worm, adware and Trojan. You can unknowingly install them on your computer by downloading files with unknown attachments or links, or by sharing infected files and inserting devices on your computer like USB that are infected with Malware. Because of the fast growing number of Mac users, even this once considered as the safest computer platform is now under attack from these malicious software prowling the internet. If you have a Mac and you want to protect it from these dangerous programs but you have no idea what to do, here is a list of top ten Mac malware removal programs you can install on your computer.
10. iAntiVirus
iAntivirus is a free software powered by Norton that has the ability to protect your Mac computer from spyware and viruses. It has the ability to block malicious software to prevent them from infecting your system. Scanning can be easily done by dragging and dropping. This anti-virus software doesn't slow down the performance of your computer even when it is running on the background. This software does not only detect threats on Mac but also programs that pose a threat on Windows. This means that you can share files with Windows users without any fear because you are fully protected. The only downside to this software is that it doesn't automatically update. If you want your software updates, you may check the app store for updates.
9. ProtectMac AntiVirus
This Anti-Virus software can be availed for as low as $44.99 although you can opt to download the 30 day free trial for you to see if the program effectively works for you. Considering that this is one of the trusted software for Mac, the price is pretty fair. This software is not just easy to install but it is also very easy to use. Scanning folders, drives and files can be done in a jiffy. It can effectively detect any present Trojans, Virus, Worms and Spyware on your computer. The program operates non-stop on the program so you can stay protected. Scheduled scans are also automatically done for you on the schedule you have set and it automatically scans every removable device you insert.
8. Norton Antivirus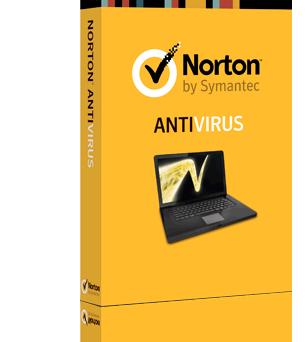 This Anti-Virus is one of the most popular security protection software for both Mac and Windows. By using this program, you can rest assured that your system is safe and is always protected because of its frequent updates. It scans on the background without slowing the performance of your computer so you can comfortably continue on your activities. Norton also scans your chat messages and E-mails for potential threats for you to avoid downloading malicious attachments.
7. McAfee Virus Scan
This malware removal and security protection program is one powerful tool for keeping your computer free from all malicious software. It can effectively detect adware, Trojans, Virus and spyware and can prevent them from infecting your system. This program scans all the files you access to make sure it is safe from all forms of malware. Furthermore, you will automatically receive updates every time a latest update is available.
6. MacScan
This great malware removal software can effectively detect and remove spyware as well as any tracking cookie you get from surfing websites. The downside of this software is that it can slowdown the performance of your computer so it only operates when you schedule it and you can also opt for manual scanning if you want. This malware removal program also has an extra feature of letting you delete all browsing history in just one click.
5. Rootkit Hunter
Rootkits are one of the malicious software that can infect your computer. They hide themselves on the legitimate applications you have so you can't detecting them by regular scanning. This program is for free and you can use it to scan your Mac to detect this kind of malwares. Rootkit Hunter can scan hidden files and suspected files that may contain rootkits.
4. Sophos Anti-Virus for Mac Home Edition
Sophos Anti-Virus for Mac Home Edition is a free software that you can use for effectively detecting and removing all types of malwares present on your computer. The software automatically connects to SophosLabs to check for latest spyware, viruses, Trojans and worms found. This software will keep your Mac computer safe from known and unknown threats. Unknown threats are suspicious software may or may not be dangerous. However, this program also includes them in the list as threats so you can quarantine or remove them from your system.
3. Mac Malware Remover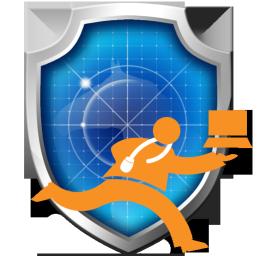 Mac Malware Remover is a software that is simple to set-up and super easy to use that you can install on your Mac computer. This software can effectively detects and deletes any malicious programs that may already be present on our computer in the past including Sabpab, Olyx, Mackotrol and the most recent malware that attacked the Mac system, the Flashback malware. You scan your system by simply clicking the start button and the program will automatically begin its hunt for malicious programs hidden on your Mac system. The result is then shown to you and the software will give you an option to clean the infected files.
2. ClamXav

This is a free malware removal software that gives its users more control on the scanning of the system. You can choose to scan the whole drive or just any specific files anytime you wish and you may also set it to automatically scan new files present on your hard drive that have not gone through scanning yet. This program is easy to use as you can just drag any item that you wish to scan.
1. Flashback Malware Removal Tool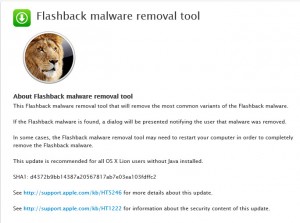 The Flashback malware has recently attacked and infected quite a number of Mac computers. To help remove this kind of malicious software, Apple company released the Flashback malware removal tool for users who are running OS X Lion. You can install and run the software easily and it will automatically scan your computer for any Flashback malware. If one is found, the tool will automatically remove it from the system and send you a message that the malware is deleted successfully.