Keyloggers are commonly associated with illegal actions or purposes. What we want to say is that these are indispensable tools to talented hackers or cyber thieves. Though this attribute is a fact that cannot be denied, keylogger Mac software are also used for good intentions. For one, they are very useful in corporate set-ups where employees are monitored at all times. It is also great for home use such as in monitoring whether children using the Internet are exposed to contents not suited for their age. Whether or not this is used for protection or other (sort of) gruesome exploits, it is still good to know what keyloggers are available in the market and what they can actually do.
10. Aobo Keylogger

Aobo does all the functions of a keylogger software. It has two types – a standard and a professional copy which essentially do the same thing. What separates the professional from the standard type is that the former can save password that are typed on a browser. It is also said that Aobo was the first to develop this kind of keylogging technique on Mac computers. It sounds very impressive and at the same time quite scary. How so? Imagine bank account passwords being given away while people doing online banking. Still, this one is worth watching.
9. AceSpy Mac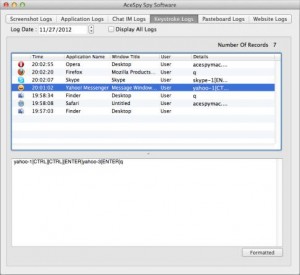 AceSpy is one decent keylogger software. It has the standard features necessary for a keylogger software and has an average user interface for easy operation. Some features of high end keylogger software are not present on this one like website blocking and keyword recognition. It also only comes in the English language.
8. BlazingTools Perfect Keylogger 2.6
Stealth mode is on and BlazingTools Perfect Keylogger is ready to hunt. This piece of software operates silently as it captures every keystroke and records virtually anything you do on your computer. This can be perfect in office setups since it can be used in monitoring employees who just keeps on skipping work and instead gets busy with personal surfing and accessing social networking sites.
7. Spector Pro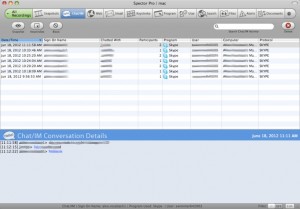 Get ready to be spied on and be placed behind bars because the sheriff is on town. Spector Pro not only has the ability to check and monitor keystrokes and instant messages, it also has the capability to block certain contacts and websites as well. What makes this software very user-friendly is that not only does it do the usual keystroke recording function, but it also automatically forwards every piece of information retained to the main operator. It can almost compare to tools being used by our friendly neighborhood law enforcement officers.
6. SniperSpy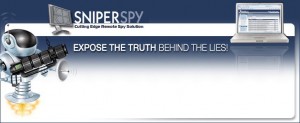 SniperSpy makes sure that your crosshairs are pointed at the right direction for that squeky clean shot. SniperSpy is great at unraveling the truth. Spying the activities of your spouse has never been easier. Computers have been accomplices of cheating husbands and wives. SniperSpy performs the conventional keylogging method, but it also features a live feedback function. This means that anything typed or accessed in the computer being monitored is shown to the operator instantly. Another sweet feature of this software is that the operator can post an on-screen message. Gotcha!
5. BackTrack 5.1.1
BackTrack is considered as one of the most user friendly and effective keylogger software. It is also available at a decent prize. It is user friendly and the makers really gave a lot of effort in the conceptualization of this software so that it stands out from the rest. Commonly software such as this compiles the files in bulk but this one is the only one that separates the files by document and makes sure that everything is spic and span. Availing this product is a no-brainer since it costs very cheap.
4. Amac Keylogger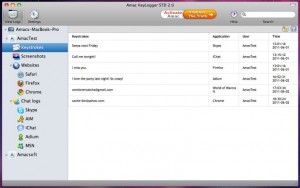 Amac is just the same as the other keylogger software which records and monitors everything that is accessed or opened in the computer which it is installed on. It constantly monitors every keystroke and sends it to the operator for efficient surveillance. The professional version of this can be compared with our number 10 entry, Aobo since it is said that it could also record passwords placed on various websites.
3. eBLASTER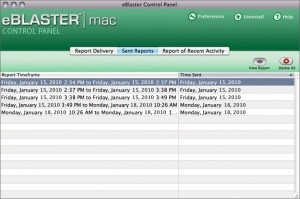 Apprehending employees accessing forbidden websites and social networking spots is really troublesome. With eBLASTER, it is assured that nothing can get past. From files being uploaded or downloaded, to instant messages with replies, e-mail messages as well as posts from various social networking sites can be captured by this awesome software. Not even your most dramatic employee can escape the grasp of eBLASTER. This has real time notification and also the ability to block strange ID's and websites for further security and system breach issues.
2. Refog Mac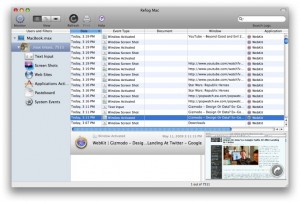 Most troubled parents are really conscious about what their kids are browsing in the Internet. Many wives and husbands also want to keep an eye on their spouse while their better halves are using the computer. For employers, it is never a waste of money just to ensure that the employees aren't just surfing the net while supposedly on the job. These are the things that Refog for Mac offers to covers. Refog is a keylogger software developed for Mac which can be used either in the house or in the office. It takes records on everything that is done to the computer without even being noticed by the user. It is password protected so that even the most techie spouse, son or employee would not be able to edit what was recorded. Anybody can use this since it has a friendly user interface that makes everything easy to operate.
1. Net Nanny for Mac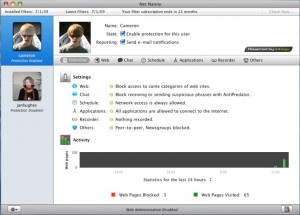 Net Nanny is mainly focused on the activities of your children while using the computer and surfing the Internet. It has a wonderful interface that parents would love to operate since nothing is complicated. Net Nanny also features live feeds and keyword blocking for a more effective parental control over your children.
All the keylogger software on this list has proven their worth in different tasks. One thing is certain—they always deliver results whether for good or ill.