All of us want to boost the performance of our Mac computers. We do not want a sluggish system that makes us wait for so long in order to download or upload files. In this fast-paced world, we need a computer that can work in just a wink and can satisfy all our needs as far as computer uses are concerned. One of the best ways to speed up our Mac system is by having a Mac cleaning software that sort of refreshes the system and removes unnecessary files or applications.
A lot of experts, in fact, recommend the use of cleaning software in order to erase unwanted files as well as viruses and worms that can, eventually, give negative impact to the computer system. In order to give you some tips on this kind of software, the following are the different Mac cleaning software with its respective main features.
10. Macaroni
http://www.atomicbird.com/macaroni
Macaroni is a Mac cleaning software that checks regularly your Mac OS x. It makes sure that your OS in on it latest version and is running at the optimum speed. No need to keep on mind the updates of your OS. Macaroni does it automatically. This is very ideal especially if you are always on the go and keeps up a busy schedule. Macaroni removes junk files and unwanted language-specific files that occupy so much space in your Mac system. Plus, Macaroni speeds up the operations of your system by repairing permissions.
9. iZotope
http://www.zzounds.com/item–IZOMSCLEANER
Now, this is something new since this software deals mostly with the multimedia files stored in your Mac computer. The iZotope Music and Speech Cleaner allows you to have top quality audio files. It removes noises and scratches from audio recordings. In other words, it enhances well the quality of your music. This is very ideal for Adobe Premiere package software and the Apple iMovie. iZotope can be widely maximize by Mac users who are into audio and video editing as well as for those filmmakers who trust and rely the amazing multimedia features of Mac.
8. WhatSize
http://www.whatsizemac.com/index.php
Another interesting cleaning tool for your Mac is the WhatSize program. Its best feature includes giving you complete guide on cleaning up the space of your hard drive. This can be done by suggesting files to remove. This allows you to know the size of your hard drive quickly and helps you sort and filter unwanted files. It can also identify which files have duplicates and that you can remove these duplicates immediately. By using WhatSize, you will be surprised on how much space you can gain with your Mac by just simply removing unwanted files.
7. Stellar SpeedUp Mac
http://www.stellarinfo.com/mac-software/speed-up-mac.php
Another way to boost the performance level of your Mac system is through the use of Stellar SpeedUp Mac. This program is deemed by many as very effective and highly reliable. Built for Mac, the Stellar SpeedUp Mac removes unused applications and erases unwanted files. But, of course, before removing important files such as photos, videos and music, this application allows you first to view the files before cleaning it up. Plus, this is very user-friendly. Its drag-and-drop feature makes it easier for you to remove and delete files. Also, this does not only delete unwanted files and applications but it also removes the extended files attached to the deleted ones. It clears up junk files and trash as well as remove log records.
6. CleanGenius
Another Mac cleaning software is the EaseUS Clean Genius software. This helps in optimizing the performance of your Mac system and allows you to maximize its full usage. This software cleans your Mac OS from unwanted files and unnecessary applications. Its features include giving your hard drive bigger space by removing system/user logs, downloads, trash, system caches and so much more. It also helps you detect duplicated files and removes it immediately. It also removes unwanted files that are big in size by locating it in a very fast speed. Simply, no hang-ups in this cleaning utility software.
5. iDefrag
http://www.coriolis-systems.com/iDefrag.php
The iDefrag utility kit's main feature is its defragging operations that can help optimize the performance of your Mac system. Notably, defragment operations are well-needed in order for your Mac system to perform well. Over time, the system slows down due to many files and applications, which some of it are unnecessary. Hence, the iDefrag helps you defragment each file by selecting it. Doing so cannot affect the entire disk system. Also, there is no need for any CD installer to reboot this application. This makes this software so user-friendly and recommended by experts. This software comes in a time system feature that updates you with its latest version and reminds you of defragmenting your Mac. Another interesting feature of iDefrag includes a temperature monitoring system wherein it checks on the temperature of your disk while it is defragmenting. If the temperature is up, the software allows first for the disk to cool down before continuing in its defragmenting operations.
4. iBoostUp
http://www.iboostup.com/features
iBoostUp is another software that can help you clean your Mac computer and optimizes its usage with a higher speed operations. This software has a status screen that provides you an overview of the status or "health" of your Mac. Plus, its user-friendly features make it a favorite by many Mac users. By just a few clicks, you can have a clean system. iBoostUp also locates duplicated files and removes it from your computer. This is sort of cleaning the clutter which, in effect, gives a bigger space at your hard disk. It also trims down the applications that have big sizes so that you can save a bigger space at your hard drive. System caches and cookies are also detected and removed.
3. Monolingual
http://monolingual.sourceforge.net/
When it comes to removing unwanted language resources from your Mac system, the Monolingual software is the most recommended. Doing such can widen the disk space of your computer which, in effect, optimizes the performance of your computer. Meanwhile, this is also very practical because you do not need a lot of languages in your Mac system if you maintain a single or two languages.
2. AppZapper
AppZapper is another cleaning utility that can really speed-up your Mac system. It has this drag-and-drop feature that allows you to delete files with greater speed and with effective results. Plus, it does not only remove unwanted applications because AppZapper also deletes the extended files attached to these applications which were left behind during the delete process.
1. CleanMyMac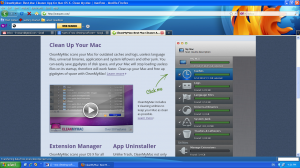 The CleanMyMac is used by many Mac users since it is deemed as very effective Mac cleaning software. It checks on plug-ins, widgets, and applications in your system and removes it if considered unnecessary. In this way, your disk will have a bigger space for a higher optimization speed.